Why should Support teams learn how to dive ?
After more than eleven years of working in different contexts (Implementations, Support, Devops, Digital transformation, etc.), I recently had a revelation when passing my PADI1, a diving certificate.
Along a dive, communication is fundamental to the safety of all, as well as to guarantee the smooth running of an activity that is supposed to be playful and respectful of the ecosystem.
But why this parallel with the Application Support professions?
This parallel makes sense if we consider the fact that support is a "collective sport" in which communication plays a key role.
We need to be clear about what we're asking for, what we need to do, and of course respect our ecosystem.
In diving, we learn to communicate via sign(s) to indicate that we are in reserve air.
At this sign, the diving partner must approach, and the partner must begin the ascent to the surface.
A sign, a symbol, a message: no misunderstanding!
Here are some lessons we can learn from diving training as a Support expert:
Respect our ecosystem: no diver should touch a turtle at the risk of passing it fungus. Similarly, no Support should touch a system without knowing the potential consequences
Communicating Clearly: In increasingly complex environments, too much information kills information. A synthetic and clear communication can avoid a lot of worries of communications and therefore of Production.
Learn and know how to say no: As in diving, if we do not feel well, it is better to abandon a dive. At Support, it's the same thing: it's better to say "I don't know" or "I don't want" than to let your team count on you. 

Take the example of a practical case that every Support professional regularly experiences, the case of a production incident:

The entire team is on the phone with a given stakeholder (users, vendor, Business Analyst, Infra team, etc.).

On your right the manager of the support team, on your left a colleague Support or a B.A. The environment is obviously agitated and very noisy.

You quickly navigate between your 4 screens: a screen presenting the supported application, another for your email, a third centered on the internal chat tool, a fourth for your monitoring tool



How can you manage the different communication channels at the different levels of depth (levels) of the crisis?
All while handling a functional communication with users, and a very technical language with colleagues from infra teams. 
As with PADI for diving, there are standards for managing production environments, such as ITIL.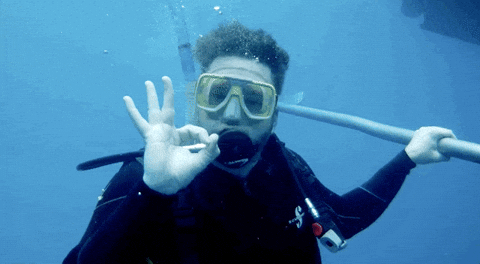 But ITIL does not teach us how to manage everyday life. 
Just as PADI certification does not make us an excellent diver. In both cases, it is the practice that makes the difference.
In some of the teams I've worked with, we've put in place codes to mean a major incident, put in a flashlight on the desk, or a distinctive sign.
Everyone may create their own survival kit in your critical environment !
Another point that seems interesting to me to address in this parallel with diving is error management.
Mistakes happen in our complex environments – and so much the better.
In a way, without mistakes, our jobs would be automated. It is above all thanks to these mistakes, to our ability to overcome them that we/ our teams improve – and especially learn. And that knowledge is priceless.
The best way to manage an error is to start by sharing it as quickly as possible and then correct it yourself if you have the means.
If the team's climate doesn't allow teammates to feel confident to say "Guys, sorry I screwed up!" then the team carries a strong operational risk. The risk that an unreported error will have a snowball effect and create a service interruption that will increase tenfold with strong business impacts. So cultivate the right to share and learn from your mistakes – it's priceless. 
Good reading to all!
Issam, Production Leader at Alenia Consulting
Alenia Consulting RCS Nanterre 847 815 164 | Terms and Conditions
Adresse : 1 cours Valmy – La Défense 92800 Puteaux | Tél : 01 87 16 90 20
© 2019 Alenia.